Mancx: a paid-for Quora for the LinkedIn community
We have all been conditioned for so long to expect information for free online that it might seem a hard sell for a new startup to convince us that some information is worth paying for. But that's exactly what Stockholm-based Mancx is aiming to do, tapping the growth in Q&A sites and the 'refreshed' consumer appetite for paying for content.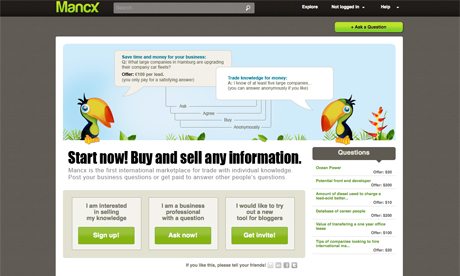 Conceived in late 2009 and launched in beta three weeks ago, Mancx is targeting small business professionals who need precise, accurate information and data to help develop their businesses. That's very different, says co-founder Henrik Dillman, to the type and quality of information found on free Q&A sites from Quora to Google's recent acquisition, Aardvark.
"When we looked at the Q&A market we saw it was all about social and crowdsourced search," said Dillman. "Google was not delivering the quality needed for professionals and we were not able to find a service where we could request information at a price. Despite the growth in Q&A sites, with something like 300m users worldwide, the difficulties and admin costs of a payment system have meant there is no established marketplace for information."
Rather than a specific country, Mancx's target is "LinkedIn country", said co-founder Mattias Guilotte, and the estimated 10m business professionals on LinkedIn who deal with small companies. "This is the future shape of the online economy, with social networks enabling the shift from big organisations to individuals and creative entrepreneurs," said Dillman.
The growing consumer appetite for paid apps and for online software payments, as well as a shift in attitude in the email industry over paid-access to content, has helped warm the market that Mancx is trying to create. There's also the growth of design marketplaces Crowdspring,Wooshii and 99designs, and IT consultant brokers Elance, Freelancerand oDesk (though how kindly those sites are regarded by the industryis another issue).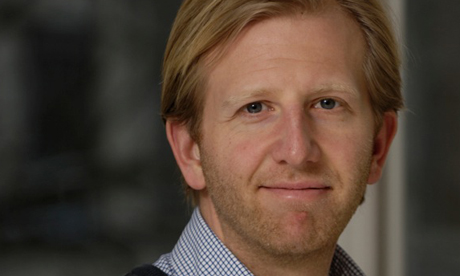 Henrik Dillman, co-founder of Mancx.com
Dillman recognises that free services like Quora will continue to grow, and said Mancx will add more free tools to attract users. But its core product will encourage transactions of $50 to $100. If you need ten leads in the semantic web industry, or some detailed research about the aquaculture market in Asia, you're unlikely to get that through a free site, and that's where Mancx claims to meet a demand, like a high-end, more detailed AQA. Mancx, which is backed by $300,000 in angel funding, is also hoping a blogs widget will help promote the service because individuals - Dillman gave the example of fashion bloggers - will be able to sell advice through the Mancx tool.
Admitting Mancx would have been a difficult concept to launch even two years ago, Guilotte said the company had also had to work with complexities around money laundering regulations and micropayments and had considered setting the business up in Panama, Iceland and Delaware because of the benefits of the local legal framework. That, said Dillman, is one of the reasons why there are so few services like this. He said he couldn't predict what kind of revenues Mancx might have in 12 months' time, but that the target transaction is $100 and it is aiming for 500,000 users by this time next year. There are 1,000 users in the current beta.
Users will be able to post information anonymously, said Dillman, just as they can on Quora. But they will be encouraged to promote their reputation and credibility through existing networks like Quora, but particularly LinkedIn. "We have to balance trust with money," said Guilotte. "Trust is a process, and users will be verified through their LinkedIn profile and our internal ratings system. It's about promoting and selling your brand and knowledge."
Source: "Mancx: a paid-for Quora for the LinkedIn community" by Jemima Kiss, The Guardian
Tags: