Eficode wins two global Atlassian Partner of the Year awards 2020: in DevOps and in Services
Read original
Eficode has now earned the award in DevOps for three consecutive years
Helsinki, April 28, 2021 - Atlassian today named Eficode, the leading DevOps company in Europe, the Atlassian Partner of the Year 2020: DevOps. Simultaneously Atlassian named Riada - Now part of Eficode, Atlassian Partner of the Year 2020: Services.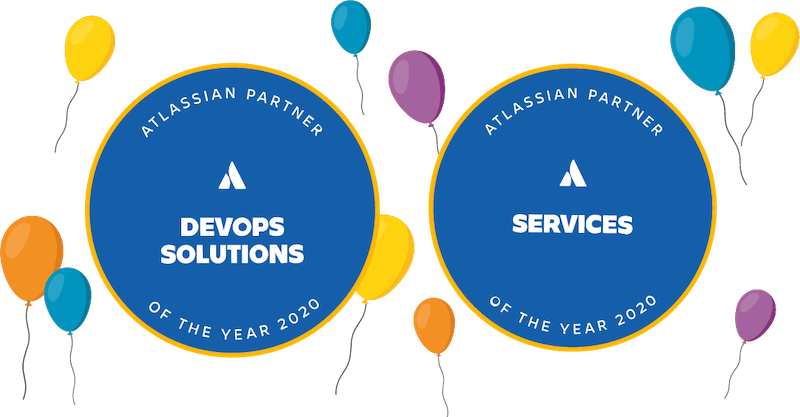 In 2020, Eficode and Riada have continued to grow Atlassian services' adoption, both as managed services, and through professional services. They also achieved major customer milestones with Jira Align and Jira Service Management. Throughout 2020 they helped a number of customers, including Vestas, Volvo, WirelessCar and Nordic Entertainment Group. The adoption of Atlassian's products and services keep increasing as companies seek differentiation through software.
"Atlassian would like to congratulate and thank Eficode and Riada", said Martin Musierowicz, Atlassian's Head of Global Channels. "Solution Partners play an instrumental role in our customers' success and we are excited to be able to highlight some of our top partners who go above and beyond to provide innovative solutions and Atlassian services to our customers.

Eficode is an Atlassian Platinum Partner in all Scandinavian countries and in the Netherlands, and a Gold partner in Germany. Recently the company acquired Riada, a market leader in Atlassian consulting in Sweden. Today Eficode has over 400 Atlassian customers and Atlassian solutions are a prominent part of Eficode ROOT, a DevOps platform as a managed service. Together the companies raise awareness and understanding of Atlassian solutions and DevOps - ultimately bringing forward Atlassian's mission: unleashing the potential of every team.
Christian Johansson, Head of Atlassian business at Eficode says: "Both Eficode and Riada have earned global Atlassian Partner of the Year awards many times. We view the Services award as a proof that our consulting competences are innovative, right in time and unique. Throughout the year, both Eficode and Riada have developed several unique services to meet the needs of our customers across Europe. We continue to grow our new Atlassian services, training and offers. I want to thank our fantastic teams, partners and customers for this outstanding achievement - again."

Eficode and Atlassian run a joint webinar on May 20th. In this webinar you will learn how DevOps connects development, IT operations, and agile teams with automation that spans solutions from Atlassian and other solution providers. Join the webinar here!
Lauri Palokangas, Chief Marketing Officer, Eficode lauri.palokangas@eficode.com, +358 50 486 4918
About Eficode
Eficode is the leading DevOps company in Europe, driving the DevOps and Agile movement and building the future of software development across seven countries with over 400 employees.
Eficode guides customers with DevOps and Agile skills and practices, and enables them to focus on their growth and customers with the Eficode ROOT DevOps platform: a managed service with over 40 preferred tools including Atlassian, Jenkins and Kubernetes; along with their Application Management and Atlassian services.
About Riada
Riada - Now part of Eficode, is an Atlassian Enterprise Platinum Solution partner and a one-stop-shop for all things Atlassian. Riada offers expertise within ITSM, DevOps, Agile methods and AWS. Besides their Atlassian expertise, they also offer Atlassian customers Business Consultants with deep knowledge of business development, Way of Working and various other methods and well known frameworks.

Riada's mission is to enhance collaboration in every organization and help customers become more successful. They support teams with agile best practices and help businesses redefine their processes to achieve higher efficiency.