Snyk and Eficode partner up to help customers develop fast and stay secure
Read original
Helsinki, March 9, 2021 - Eficode, Europe's leading DevOps company, is excited to partner with Snyk, trusted provider of cloud native application security to help customers integrate security more effectively into the CI/CD pipelines, processes, current DevSecOps tooling, and getting help for the DevOps transformation.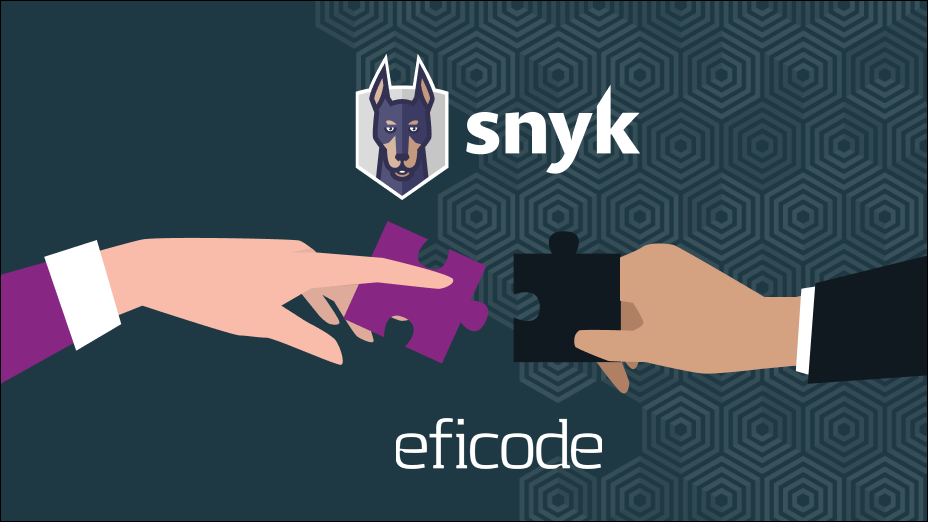 Snyk is a Platinum sponsor of Eficode's The DEVOPS Conference, on March 23-24, 2021. Patrick Debois, the father of DevOps and director of market strategy, will explain how DevSecOps, which is built upon the core tenets of DevOps, requires the same mindset and approach, and ultimately forms a consistent feedback channel for the business on overcoming yet another bottleneck: security.
Eficode DevOps experts help customers to utilize the snyk solution and adapt the security part of the current DevOps practices, processes, tooling, and CI/CD pipelines.
Eficode delivers Snyk cloud native application security both as part of the Eficode ROOT DevOps Platform and as a standalone solution. As part of Eficode's partnership with Snyk, the company will be able to deliver consulting services around the Snyk solutions. Cloud and DevOps require developers to be at the forefront of enterprise security and it is therefore essential that they are equipped with the right tools to maintain speed of delivery and reduce risk.
Snyk is a developer-first security company, that helps software-driven businesses develop fast and stay secure. Their solution is built on a comprehensive, proprietary vulnerability database, maintained by an expert security research team based in Israel and the UK. The platform, which is proving to be a leader in its field, has already enabled more than 1.5 million developers to continuously find and fix vulnerabilities in open source libraries and containers.
"Shifting security left is simply not enough." says Udi Nachmany, VP EMEA Alliances at Snyk "The real change is top to bottom, shifting security responsibility from governance to application teams. To achieve the scale and speed it needs, a digitally driven organization must have security continuously integrated into its development process. It goes far beyond just a shift to the left".
Marko Klemetti, CTO at Eficode, says: "We help our customers adopt healthy DevOps culture and practices. This includes integrating the best tools in their DevOps Platforms to create a solid foundation for Continuous Improvement. As security is an essential part of DevOps, our customers can now easily include Snyk in their Platform and CI / CD pipelines."

Lauri Palokangas, Chief Marketing Officer, Eficode. lauri.palokangas@eficode.com, +358 50 486 4918
Eficode is the leading DevOps company in Europe, driving the DevOps and Agile movement and building the future of software development across seven countries with its over 400 professionals.
The company prepares its customers with DevOps and Agile skills and practices, and enable them to focus on their growth and customers with Eficode ROOT DevOps Platform: a managed service with over 40 preferred tools including Atlassian, Jenkins and Kubernetes; and with our Application Management and Atlassian services.
Tags: